What is the Google Local Pack?
Different types of keyword searches in Google return different types of search features that are most relevant for the search intent behind the query. One search feature is the "Google Local Pack" or "Google Map Pack." This blog aims to learn more about this crucial of Local SEO strategy element. 
What is the Google Map Pack?
Google's Map Pack or Google's local pack is a SERP (Search Engine Result Page) feature Google has that shows a map of local businesses with top-ranking local listings. In Google's local pack, Google usually shows the three most relevant results to the Geo specific query. These are three local businesses.
The Google Maps results usually appear above the organic search results as Google understands that the user intends to find a physical location for the business. Within the map back, the searcher would see three local listings and a sponsored fourth one.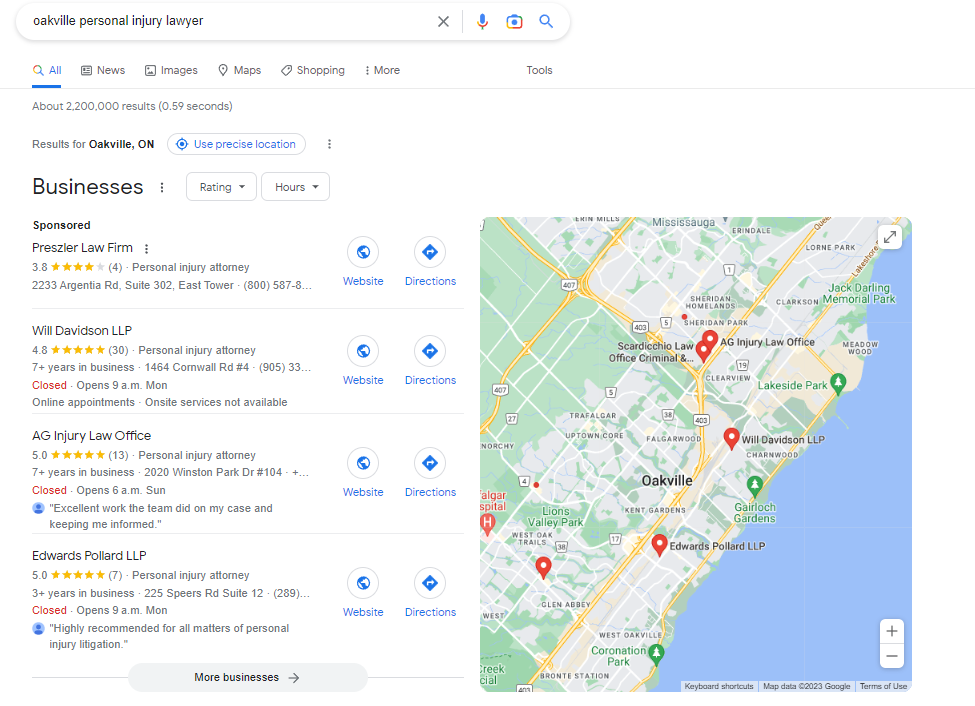 What is Local Search Intent?
Local Intent can be classified as search queries that contain "location" + "business/services" keywords, e.g., Mississauga Personal Injury Lawyer. Another form of local Intent is the search query format "business/services" + "near me," e.g., Men's Hair Salon Near me.

What are the Google Map Pack Features?
The purpose of the Google map pack is to provide as much relevant information to the searcher about the business, help them make their purchase decision, and take the desired action.
The local pack contains basic information about the business, such as business name, overall Google rating, number of reviews, business address, the link to its website, the option to provide directions to the business location, and the business status, i.e., if it's open or closed. Some of the important Google Local Pack features include:
Business Name

Business Description

Open/Closed

Business Address

Business Website

Directions Call to Action Button

Business Type 

Aggregative Google Review Score

Number of years in business 

Phone Number

Location on the map based on proximity

Price
Once you click the more local business option, the page takes you to Google Local Finder.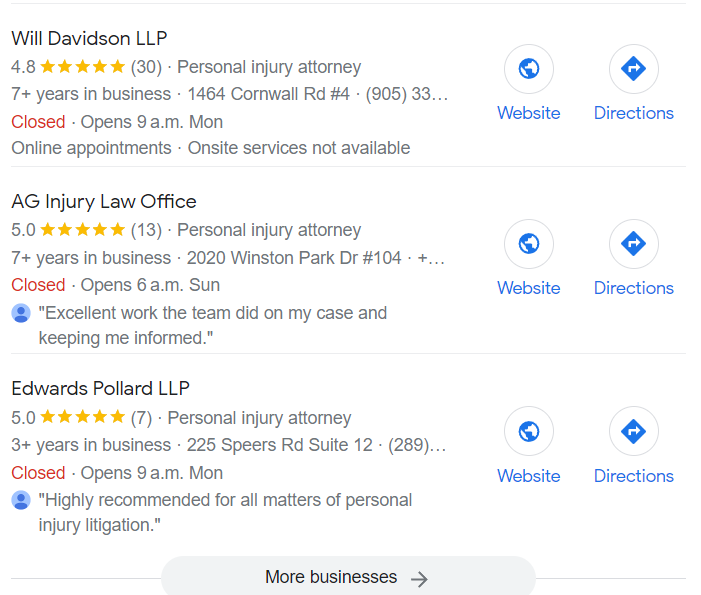 How does the Google Map Pack Work?
Google's local search algorithm differs from its organic search algorithm, specifically focusing on Google Business Profile results for geographically targeted user queries. This algorithm evaluates three primary factors concerning the searcher and the various Google Business Profiles:
Proximity: The distance between the business and the user.

Prominence: The popularity or reputation of the business.

Relevance: How well the business's products and services align with the search query and user intent.
The algorithm prioritizes Google Business Profile listings that are accurate, regularly updated, and contain relevant keywords, ensuring users receive the most relevant results for their local searches.
Why is the Local Pack Important for Local SEO and Local Businesses?
Some Global Google Searches have local Intent. 93% of queries and keywords have the "Local Map Pack" feature on the SERP. Businesses can rank on Google twice. This makes the local pack more critical for businesses with potential customers in a particular vicinity or geographic location.
Other benefits of ranking in the Google Local Pack through Local SEO Services include the following.
High Click Through Rates (CTR)
Ranking in the local map pack of Google increases click-through rates (CTRs) significantly. Potential customers searching for local businesses are likelier to click on the top results, driving more traffic to your website and boosting brand engagement.
A higher position in the local map pack often leads to more phone calls from interested customers. Users searching for local services are likelier to call businesses that appear in the top results, increasing the chances of inquiries and bookings.
The conversion potential increases as your website receives more targeted traffic and phone calls. Users searching for specific local services are more likely to convert into customers, directly impacting your revenue and growth.
Being featured in the local map pack enhances brand awareness and visibility. Customers will associate your brand with the top results in their local search, building trust and credibility. 
You can follow a holistic local SEO strategy to get a map back on Google.
1. Identify Keywords with Local Search Intent
Determine primary and service keywords relevant to your business and target potential customers effectively. Primary keywords focus on Location and business type, while service keywords emphasize specific offerings or services. Proper keyword research helps optimize your website to rank higher on search engine result pages, increasing visibility for any local business.
Create, verify, and optimize your Google Business Profile by ensuring accurate and consistent business information, such as name, address, and phone number. Include a user-centric description, select appropriate primary and secondary categories, and provide up-to-date business hours. Engage customers by showcasing your products and services with relevant keywords, sharing high-quality photos and videos, and creating informative posts to keep your audience informed and boost conversions.
Generate reviews on multiple platforms by asking loyal customers or offering incentives. Monitor online reviews with tools like BrightLocal or Whitespark and respond to positive and negative feedback. Consider delegating review management to a dedicated resource or agency for effective results.
Build citations through local directory listings, business listing, and national or regional directories, and maintain NAP consistency across all platforms to strengthen your online presence and avoid search engine confusion about your business's Location.
In conclusion, the Google local map pack is an essential and significant benefit of local SEO strategy as it showcases the best-ranking local businesses on the SERP. The local map pack provides relevant information to the users to make highly informed decisions and take the desired actions.
Local SEO strategies such as identifying local intent keywords, optimizing the Google business profile, review management, citation building, and website optimization can increase the business's visibility through the local pack. Ranking among the three dog businesses and the Google local pack offers several benefits, including high Ctr. More brand awareness and, of course, higher sales and revenue.
By implementing a comprehensive local SEO strategy, your business can improve its online presence in the targeted geographic location and enjoy ranking benefits in the Google local pack. 
Explore our Local SEO Services