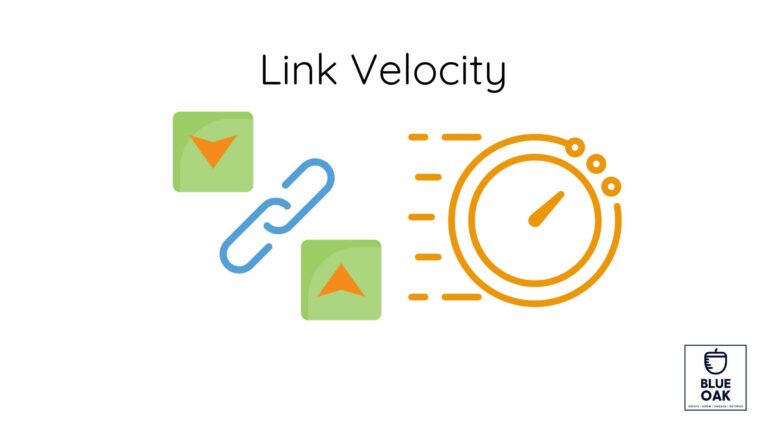 Backlinks – one of Google's most significant ranking criteria. In other words, Google considers the number of high-quality, pertinent links pointing to your website from other websites and ranks your site appropriately when someone conducts a Google search. 
Google's algorithm functions similarly to a highway cop. You will get caught if you are riding recklessly. In SEO, the same is valid for link velocity. Link velocity constitutes another influencing aspect to consider if you're organically creating links for your business or product/service. 
However, be cautious while traveling too rapidly. Building links at an extraordinary velocity is "unnatural" from the perspective of search engine crawlers. That is why you must be educated about how to link velocity can be handled.
Keep reading to learn more about link velocity, how it works, and how you can improve your Google Search Engine ranking by using it. 
What Is Link Velocity in SEO?
Link velocity is the frequency at which backlinks to your domain or website become established over an interval period. It is the measure of how many links you develop directed to your website every month. The metric most commonly used is the number of new links gained every month. It is referred to as link-building or backlinking, which are precisely the same process.
It's paramount to bear in mind that having a higher link velocity cannot ensure your company or product/service the desired top place on Google's search engine results page (SERP), despite the fact it does play a substantial role in getting you there. Enhanced outcomes can only be gained by using high-quality backlinks; thereby, more emphasis should be placed on establishing premium links.
Simply put, it's not the sole determinant, but the influence of link velocity trends should not be underestimated. 
Types of Link Velocity 
Positive Link Velocity
Positive link velocity showcases a boost in link growth. It implies that the company or product/service constantly looks to improve its standing in the marketplace. Positive link velocity indicates that the website's content is useful or noteworthy. However, search engines may penalize you if the growth is too sudden and artificial (e.g., due to a spammy link-building plan).
Negative Link Velocity
The drop-in links pointing to your freshly launched website or domain are called negative link velocity. Search engines/Google chatbots often view this action as an adverse indicator, resulting in a decline in the ranking of your website. Negative link velocity highlights your domain's dubious online credibility.
Optimum Link Velocity
Link velocity increase ought to be perfect, according to the Google algorithm. To ensure that backlinks increase naturally, your domain should have outstanding content. However, this isn't always achievable. In such cases, you must generate backlinks for yourself and do it in such a way that the increase in your number of backlinks is steady. It should not be excessively rapid or sluggish. The performance of your website might be negatively impacted by obtaining too many backlinks in one month and none in the following.
Why Is Link Velocity Essential?
Quality backlinks from trustworthy referring domains can help you rank higher in Google search results for your targeted keywords. The quality of the referring domains, the number of backlinks and referring domains, the anchor text used, the speed at which backlinks are obtained, and the other websites connected to a referring domain are all variables that Google and other search engines keep an eye on.
While link velocity is not a ranking factor in and of itself, it is connected to other ranking variables. It may help you assess your rivals when it comes to backlink acquisition.
Link Velocity SEO: Boost Your Link Velocity
A decent link velocity cannot be quantified. Google has repetitively stated that it is unconcerned about the quickness with which hyperlinks are uploaded to a page. Rather, it is concerned with how natural and organic the linkages are. 
The number of backlinks added to a site must gradually rise with time. To put it another way, link growth should correspond to site growth. For example, if you obtained five links this week, it makes sense to collect 10 or 15 the following week, but not 100.
An organic link velocity should ideally be consistent without affecting link quality. Again, the number of links you construct should follow a natural curve that includes development, a peak, and a taper-off.
But be careful not to get into a pattern. Google can identify trends, and acquiring too many backlinks too rapidly is a clear red signal! 
For example, if you're launching a campaign from scratch, aim to plan your monthly link acquisition like this:
Day 1: 1 link

Day 3: 2 links

Day 6: 1 link

Day 11: 3 links

Day 17: 5 links

Day 22: 3 links

Day 27: 6 links

Day 30: 2 links
Here are a handful of the most important reasons link velocity affects SEO.
Search engine algorithms
Search engines like Google use the pace at which new backlinks are formed to determine a website's acceptance, legitimacy, and credibility. When a website maintains a steady velocity, it communicates to search engines that the site continually delivers helpful content, which possibly leads to higher positions in search engine results pages (SERPs).
Authority and trust
A website that consistently receives links from other websites effectively acquires their confidence. The more sites that link to a certain web page, the more legitimacy and trustworthiness it has in the lens of search engines. Higher authority and trust can benefit search engine rankings and increase the likelihood of a website appearing on the very first page of Searches.
Novelty and freshness
A perpetual link velocity indicates that a website regularly creates fresh, accurate, and applicable details. Search engines endorse websites that give users the most up-to-date and beneficial content. Therefore, keeping a consistent velocity can assist in enhancing a site's rating in search results.
Organic link profile
You must create a natural link architecture to avoid repercussions from search engines. A website may be suspected of using manipulative link-building techniques, including purchasing or selling backlinks if its link velocity abruptly increases or drastically decreases. Such strategies can lead to various penalties or, in the worst-case scenario, result in even lower rankings.
Recommended Practices for Keeping a Stable Link Velocity
Here are a few of the best practices for keeping link velocity healthy. 
Publishing high-quality, relevant content: It is one of the most effective techniques to gain backlinks. It can vary from educational papers and blog entries to illustrations, data visualizations, and other communication mediums. The real output is to create content synergies that should be fascinating and instructive based on your target audience's preference.

Publicize your topics: Once you've uploaded your content, you should promote it to help it attract a broader demographic. Sharing it on social media sites, reaching out to relevant influencers or bloggers, or even marketing it through paid advertising are all possibilities. More specific individuals will be exposed to your publications, increasing the likelihood that someone will wish to link to them.

Examine your link velocity: It is imperative to frequently examine your link velocity to verify that it is in good working order. The number of backlinks you get over time can be monitored using a service like Ahrefs or SEMrush. You may need to concentrate on obtaining additional backlinks if you discover that your link velocity is decreasing.

Focus on your rivals: Observing what your competitors are doing to obtain backlinks might be advantageous. Analyzing your competition will inspire you to generate unique and valuable content; this will pave your understanding to experiment with different publishing strategies freely.

Do not rush: Building an optimal link velocity takes time, so patience and consistency must be demonstrated. Expect a big rise in backlinks over time; it takes time to establish trust and authority in your niche.

Stay away from black hat strategies: It's enticing to try to speed up the process of creating a healthy link velocity by employing black hat strategies like purchasing backlinks or utilizing hyperlink farms. Interestingly, these strategies may eventually be more detrimental than beneficial because search engines are increasingly adept at identifying and penalizing websites that use them.

Broaden your backlinks: It's significant to have a variety of backlinks originating from various sources and categories of websites. Backlinks from authoritative websites in your field, social networking networks, and other relevant websites are ways to demonstrate this. Search engines can learn that your online presence is credible and reliable if you have various backlinks pointing to it.
Create Natural Link/ Velocity Growth with a Link Building Strategy
Google's link assessment criteria must be kept in mind while implementing link-building strategies. Having the consideration of these criteria, you will have a pool of profoundly high-caliber links that are pertinent to your website.
So, these are the recommended primary natural link-building strategies.
Focus on public relations.
Links to publications and press sites are handy. Google accepts such websites as millions of users visit every hour and accord them a lot of online credibilities. Avoid black hat practices such as PBNs and reciprocal links.
Famous news sources also have many regular readers, which leads to significant spontaneous spreading of any subject that appears there. Wouldn't it be amazing to have a link or maybe a mention of these websites?
Publish unique findings
The benefit of rigorous research that offers an audience value is well known to all content creators and marketers. 
However, someone needs to perform the study in the first place. Why can't you take that first step and become invincible?  
Original research on core industry problems that your colleagues should be aware of is a good way to establish oneself as a professional. Just imagine the impact of well-structured articles backed by your research, which will have a multiplier impact on your website's ranking. 
Consider guest blogging
A well-liked link-building tactic is guest posting. It entails creating a blog article for another website in return for a link back to your own. It's a win-win situation for both parties: the other website receives free, high-quality material, and you receive an informative backlink.
Utilize influencer collaborations
Industry influencers frequently have a sizable and devoted following. 
A successful strategy to create high-quality backlinks is collaborating with influencers, possibly by giving them free goods or services in exchange for an endorsement or review.
Utilize broken link building.
Broken link building is locating important websites in your business with broken links and recommending your own matter as a suitable substitute.
Diversify your anchor texts.
The clickable text in a hyperlink is known as anchor text. Using the same anchor text for all links heading to your website is not a good idea. Due to the possibility of harsh penalties, search engines view this as an attempt to influence rankings.
When establishing links, blending phrase match, partial match, brand, and generic phrases into your anchor text is imperative. The goal is to make your backlinks seem as natural as feasible.
FAQs about Link Velocity SEO
Which link-building tactics work the best?
Making interesting, high-quality content organically draws backlinks is the ideal link-building method. Guest blogging and establishing relationships with trustworthy users and websites are also part of it.
Does SEO benefit from a high link velocity?
Google must perceive your backlink acquisition as natural. Obtaining an excessive number of backlinks too rapidly may negatively influence your SEO efforts.
Where can I find link velocity in Ahrefs?
Link velocity is included in Ahrefs' domain backlinks section. By inserting the URLs of the top-ranking sites in your niche, you may compare their backlink growth over time to your own.
How many backlinks are necessary for SEO?
There is no set quantity that is ideal for SEO while developing links for your website. As long as they are worthwhile and pertinent, you are allowed to have an unlimited number of hyperlinks.
In a Nutshell
Now that you know how the link velocity works, you are armed with all the information and resources necessary to develop your strategy. Begin assessing your page's link profile now, make repairs and redirects, and pursue partnerships and pairing opportunities to boost your link velocity. Prove to Google that you are a trustworthy resource online.